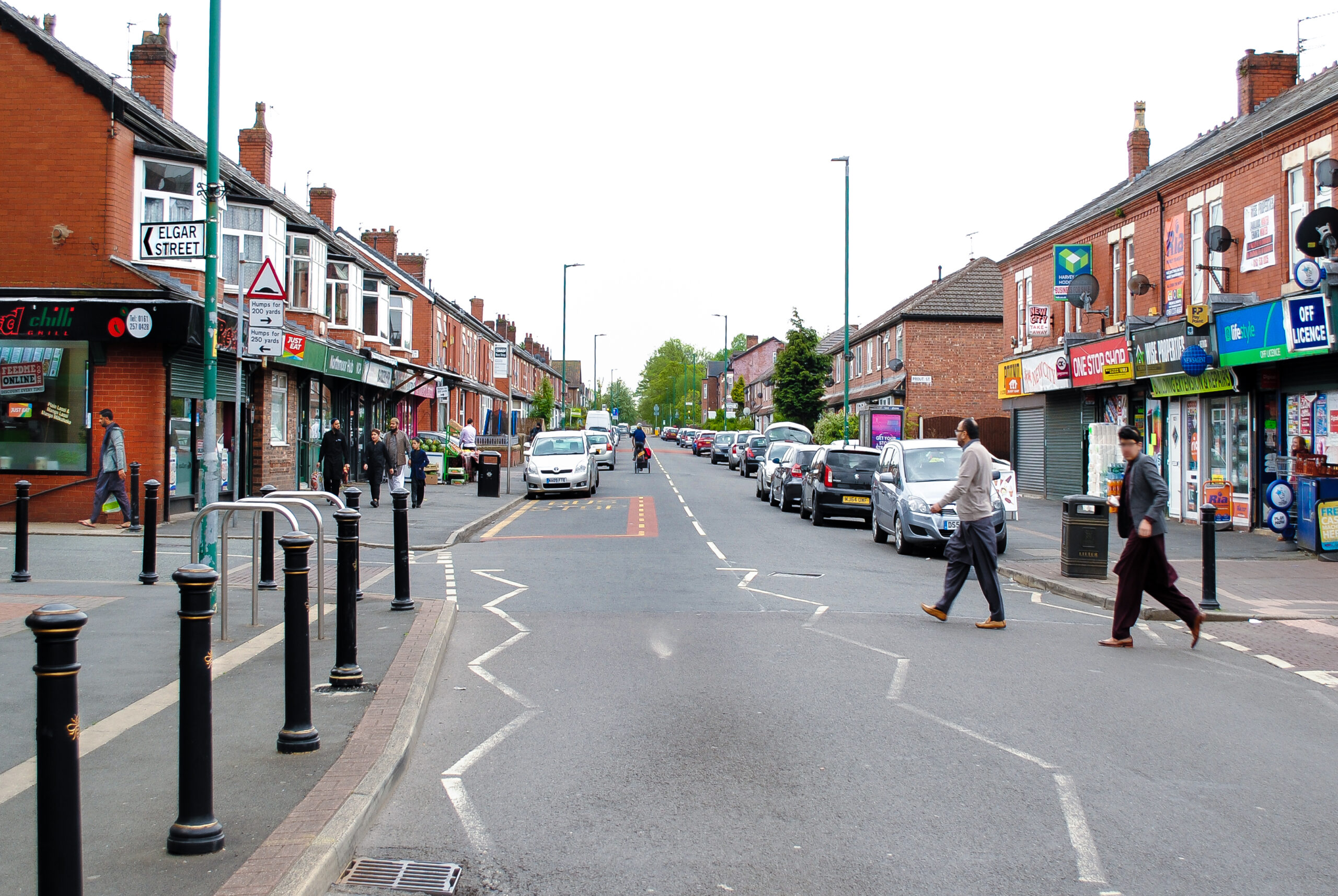 An extraordinary walk,
through familiar streets
Launching 5th February 2022
An intimate audio walk along Northmoor Road in Longsight, Manchester
Free to experience
Audio in English & Urdu (with written translations)
Use your own smartphone or borrow a device
The people of
The people of is an audio walk that creates a fleeting portrait of an ordinary high street. Just two miles from Manchester city centre, Northmoor Road in Longsight is a meeting and crossing point for all sorts of different people.
This audio walk by Quarantine guides you along a well-trodden route, past the bus stop, the greengrocer, the barber's and kebab shop. As life carries on around you, tune into the voices of the people who keep this place alive.
The greengrocer who used to keep pigeons in Pakistan, the cleaner who grows sunflowers on her balcony, the auto electrician who is learning on the job, the tour guide who plays his saxophone in the local park, the person living on the 15th floor with a bird's eye view of it all…
The people of is created from a fascination with how we live together – how our daily lives depend on, and collide with, those we don't really know. It asks about the journeys that we take, how we spend our time, and what it really means to live together.
The latest work by legendary Manchester ensemble Quarantine, The people of is made through interviews and encounters with the people who live and work in the area. It maps the voices, stories and daily routines of Northmoor Road against a sonic landscape of found and composed sound, transforming the street into a live exhibition of people.
The people of is created by artists Kate Daley and Sarah Hunter, sound artist Jaydev Mistry and project animateur Chi Emecheta.
From 5 February 2022
The route
The people of guides you on a 60-minute walk, covering just under 1 mile. The route starts and finishes on Northmoor Road, Longsight.
Use your own smartphone and headphones (data charges may apply) or borrow a device – booking required (available until 20 February).
The people of can be experienced at any time, but we recommend setting off between the hours of 11.30am and 4.30pm while it's light and the shops are open (Fridays are not recommended as some businesses are closed).
How to get there
Starting point: The corner of Elgar Street and Northmoor Road, Manchester, M12 5RT
Visit the information point to pick up a map or borrow a device: 89 Northmoor Road, Manchester, M12 4PF
Buses: 150 / 191 / 192 / 197 / 742 / 749
Trains: Ryder Brow / Belle Vue / Levenshulme
About Quarantine
Quarantine have been making theatre, performance and other public events in Manchester since 1998. We are an ensemble of artists and producers making work that explores what it means to be alive today in direct and unexpected ways.
Past works by Quarantine ensemble members include the opening of MIF 2017, What is the City but the People?, which put Mancunians on a yellow catwalk above Piccadilly Gardens; the epic quartet of performance and film Summer. Autumn. Winter. Spring.; and the ongoing, monthly curry and conversation event No Such Thing, which was shortlisted for Best Event at Manchester Culture Awards 2019.